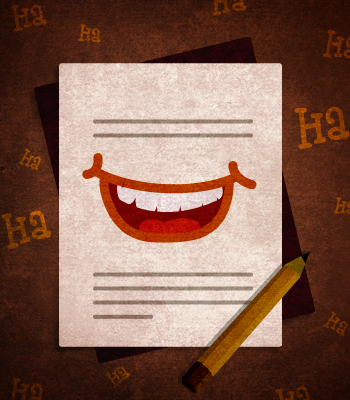 People avoid online explainer videos which they find boring. Adding humor to your explainer video script can reduce the boredom quotient and compel the viewers to watch the entire video. Here are 10 tricks you can use to include humor in your explainer video script writing.
1.

Spread it Out

Start your explainer video script with a funny anecdote but you should move on to your main message right away. Don't place too much emphasis on the humor or you will come across as a comedian and no one will take you seriously. Leave some humor for the rest of the video.
2.

Be Strategic

Add humor at the points where you feel you really need to grab your viewers' attention. Find the best place to add humor so that it complements the message of your video by engaging the viewers.
3.

Provide Value

You can provide value to your viewers through humor. If you have a dry topic to cover, adding a touch of humor makes the message easily digestible for the viewers.
4.

Compare

It is a great idea to use comparison as a tool for adding humor to explainer video script writing. Compare your business to another making it as humorous as possible.
5.

Laugh At Yourself

The humor works if the viewer feels as if he/she is laughing with you and not at you. If you are adding humor at your expense, make it clear that you are laughing too.
6.

Use It Appropriately

Sometimes an explainer video script does not need humor. In such instances, it is better to maintain a serious tone rather than forcing humor into the script. Doing so would affect your brand's credibility in a negative way.
7.

Focus on the Message

At the end of the day, the message you want to communicate to your viewers is the essence of the explainer video. You should make sure the humor is not overpowering the actual message or causing the viewers' attention to deviate.
8.

Don't Be Sarcastic

Being humorous doesn't mean you have to be sarcastic. Most people don't take kindly to sarcasm and won't take you or your business seriously if you come off as sarcastic.
9.

Watch, Observe and Adapt

A great idea is to watch other business' videos and see how they incorporate humor into them. That way, you can pick up some great ideas for adding humor to your own videos. You cannot steal ideas but you can adapt them for sure.
10.

Assess the Quality

Humor only works if the audience thinks it's funny. It is quite possible that what you find humorous does not appeal to your target audience. Even though your explainer video script might be funny, it will fail to retain the viewer's attention. Hence, it is prudent to get someone to read the script or watch the video before you publish it online. That way, you can decide whether you need to improve the humor or let it be.

These are 10 tricks you can use to add humor to your explainer video script.