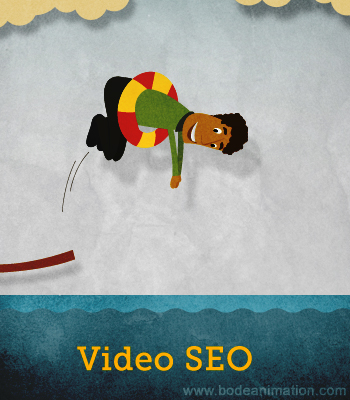 Forrester Research reveals that videos are 53 times more likely than traditional web pages to receive a ranking on the first page of search results.
Optimize your video SEO with these fifteen great tips.
Tip #1 – Value Driven Videos with self Hosted
The content of your video is clearly the backbone of its success.Optimize video SEO by including relevant, informative, engaging and memorable content that portrays your brand. But do this all values goes to your website or your youtube video channel. Self hosting is the first and foremost step in getting video seo benefits.
Tip #2 – Localized Videos Should Reflect Your Brand's Essence
Videos need to revolve around the core brand identity so that audience can clearly differentiae your brand against the competition. Make sure you localize it. Reach out to specific audience.
Tip #3 – Throw In Tags The Video
A good way to increase the visibility is to optimize video SEO by using important key phrases or keywords that direct traffic to your video. Use youtube specific keywords. Check what people are really searching in video sharing sites.
Tip #4 – Charm With The Title
Create eye-catching titles that would coerce the audience to hit 'play'. The SEO for video title should include keywords related to your brand that people would most likely be searching with.
Tip #5 – Add An Interesting Description
Video SEO can also be included in the attached description which should give a brief about what the video is about using appropriate keywords. Please avoid copy paste the script or any other content. Write specific content.
Tip #6 – Connect Video To Other Content
SEO video marketing on YouTube and Vimeo can involve relevant back links that direct the audience back to your website or other related videos.
Tip #7 – Rely On captions and Add Transcripts
Captions are easily searchable and double your SEO value. Captions are great in places where sound is a problem. It even get more values if it is used for other languages with optimized transcripts.
Tip #8 – Avoid Lengthy Videos
Nobody is going to watch videos that go on and on. Rather than bore the viewer, it is better to keep videos shorter than five minutes. Why it matters? All seo benefits get to your video and brand only when viewers see the whole video.
Tip #9 – Optimized URL and Video File Name
Stop using some crappy file name like video002235.mov. Use meaning full phrase and keyword in URL and file name.
Tip #10 – Create A Video Sitemap
With a video sitemap, Google spiders can easily find your video and index on the result pages accordingly. You can create the sitemap using Google Webmaster Tools.
Tip #11 – Let Others Embed Your Video Where Appropriate
One way to increase your exposure is to allow viewers to embed the video SEO URL on their websites, blogs or social media platforms.
Tip #12 – Include A Thumbnail
Thumbnails are a quick snapshot of your video and even manage to attract the audience to click to view the video. Conversion rate is the most highly engaging SEO value. Poor thumbnail will down your all efforts.
Tip #13 – Syndicate Videos
By submitting your video to RSS feeds, you can enjoy greater exposure on various avenues online. This syndication gives you a chance to further engage in SEO video marketing.
Tip #14 – Add the word "Video"
Do you know still reading a video content is a tough job for number of search engines. Use the word "video" in title, tags, description, URL, etc.
Tip #15 – Share Along
Share as much as you can, wherever you can.