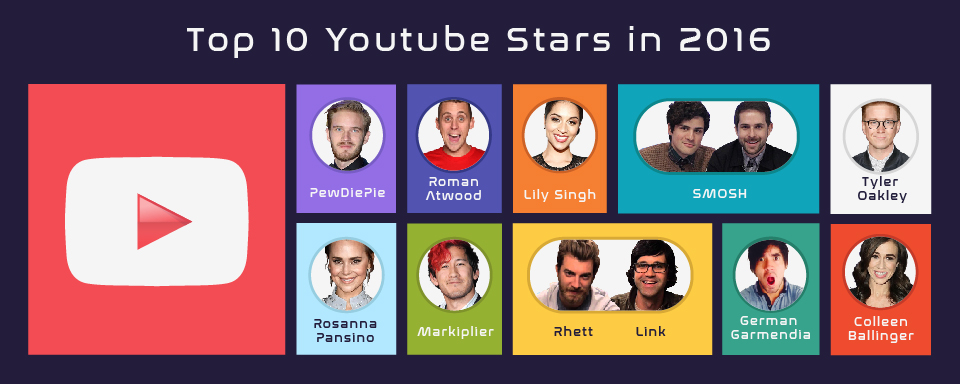 A few years back youngsters dreamt of being movie stars, flaunting down the ramp in glittering dresses posing to a pack of flashing cameras. By and large, today's youth aspire to YouTube stardom. And statistics are promising!
Another year has come to an end, and 2016 had been a stroke of luck for Youtubers in making cold hard cash. Fueled by the proliferation of internet connections and rapid growth in smartphone sales, the active internet user base boomed. This catalyzed the phenomenal viewership for the YouTube media and its celebrities.
Today, the YouTube stardom is inviting the world to be part of a new sensation and be amazed by a true magic. It's quite hard to believe that there are people on YouTube making big money that' s grueling even for the movie stars. But it's true!
Hosting a successful YouTube channel is no child' s play. Even YouTube partners break their backs to make a few hundred bucks. But these YouTube' s super-users make some serious money.
Meet the 10 Youtube stars. Interestingly, the list is a great deal of variety: a comedian, a rapper, a prankster, a baker, a youth activist and a couple of gamers who earned a combined $70.5 million last year. And, yes, it was as cool as it sounds. Here's how the 10 most profitable users fared in 2016. Scroll down to see who made the cut.
1. PewDiePie
And the top spot goes to PewDiePie.
This Swedish gamer, Felix Avrid Ulf Kjellberg in his Youtube channel PewDiePie has turned silly snippets of himself playing video games for his 13 billion views. He churned out his 50 million subscribers into a $15 million paycheck and a hit book This Book Loves You that struck the New York Times bestseller list.
This Youtube' s undisputed king is the first person to ever reach 10 billion YouTube views is also the most influential people this year. Felix's second video game, PewDiePie's Tuber Stimulator, was also downloaded more than 1 million times within the day of release. His influence on the gamer community is so great that it surged the sales of a few games when they were aired on his channel.
Know what? He also holds the Guinness World Record for most YouTube subscribers. With 50 million subscribers, PewDiePie is an undeniable asset to YouTube. Nobody even comes close.
Look what this Youtube' s undisputed king says, "There are videos that have nothing to do with quality — just really great titles and a really great thumbnail — that do well. " You got it. Right?
2. Roman Atwood
Almost 10 million subscribers tune into Atwood's channel to watch and enjoy his interesting practical jokes like spraying people with skunks or creating a ball pit or a snowstorm inside his house. Would you not try one yourself if I say that only his pranks and tricks had earned him around $7million?
Believe it or not, one of his famous pranks even include himself pretending to his girlfriend to have killed their three-year-old son.
The prankster also took his hijinks to the silver screen this year, for the feature film Natural Born Pranksters.
Atwood also makes income off his personalized merchandise and a sponsorship with brands like Scott Toilet Paper.
3. Lily Singh
This Indian origin Canadian woman is a Psychologist. As a counselor, her approach to deal with depression finally earned a good fortune earning more than $7.5 million through her Youtube channel has a subscriber base of 10,296,350 with 1.3billion views.
Singh controls the channel 'Superwoman' on YouTube and her face is now plastered in billboards across Manhattan.
This rapper' s popular videos are 'What Clubbing Is Like', 'Why Bras Are Horrible' and 'Types of People You'll See On Halloween'. Singh' s guest stars make a hot list including the first lady of the United States Michelle Obama.
4. SMOSH
Ian Andrew Hecox and Daniel Anthony Padilla, make up the American sketch comedy duo fondly called as SMOSH. The duo joined YouTube just months after it premiered in 2005. Now, they are multi-millionaires earning up to $7 million with their 22,474,510 subscriber base.
Their series range from parody sketches like 'Masterchef Millennials' to 'The Big What If', 'Every Blank Ever' and even Pokemon-related videos. They also developed their first scripted long-form series called Part Timers, posting a new episode every week on their channel.
Hecox and Padilla became the first YouTubers to have their own wax figures at Madame Tussauds.
Their first feature-length film, Smosh: The Movie, is currently streaming on Netflix.
The duo has shown no signs of slowing down, and it is not surprising that they now run seven different channels.
5. Tyler Oakley
Tyler Oakley mixes comedy with pop culture and politics. No wonder Oakley signed a deal with Ellen DeGeneres to initiate his own digital talk show. A lucky deal, indeed! A deal that bagged him $6 million and 8,087,829 subscribers.
Oakley's videos range from guessing celebrity abs with Tom Daley, unwrapping toys with Kellie Pickler, to interviewing Hillary Clinton and Michelle Obama.
The 27-year-old Oakley employed his Youtube show as an effective tool to advocate for LGBT youth, posts about issues affecting the LGBT community and also raised more than a million dollars for The Trevor Project.
This humorist acquires the prominent position in the OUT Magazine's Power 50 and The Hollywood Reporter's Top 25 Digital Stars.
This activist recently released his first book of essays, Binge, which became a bestseller Binge.
6. Rosanna Pansino
What started in the kitchen brought this 31-year-old to the limelight and now earns her millions together for her cupcake baking skills. Rosanna Pansino' s YouTube cooking show Nerdy Nummies have brought almost 7 million people to her channel along with the ready money of $6million.
This great cook calls her show as the Geeky Cooking Show that unleashes recipes inspired by fantasy, sci-fi, comic books, anime, movies, video games and television shows.
If you watch one, you will learn how to decorate gingerbread houses, and bake unique creations like a Sleeping Beauty Birthday cake or Game of Thrones Direwolf Bread.
Amidst baking, Rosanna Pasino is also raking loads of money which she had only dreamt while she began to pursue an acting career.
Initially, she only started making YouTube videos to gain acquaintance to the camera, and now it turned full-time.
And know what' s cooking?
This internet wizard had bagged a role in an upcoming Saw film
This baking enthusiast has since uploaded more than 100 recipes. Pansino' s recently released cookbook made the New York Times' Bestseller List.
7. Markiplier
This gamer Mark Fischbach fondly called by his fans as Markiplier is much like PewDiePie.
His running commentary for his 'Let's Play' video game clips had captured plenty of attention. He had an energetic style and known for his inappropriate gags and his wild emotions.
This 27-year engineer dedicated his focus to his increasingly popular YouTube site that has 15,523,276 subscribers and earned $5.5million last year .
What sets his videos apart is the quality of his editing. He frequently posts montages like this one that compresses his hours of gaming into one compact video of funny moments.
Fischbach, has recently announced plans to try his hand at music and acting, even signing with top talent agency WME.
No worries if that doesn't work out, he'll clearly still be making a good deal of cold cash with his glamorous job in front of the camera.
8. German Garmendia
GermanGarmendia's channel is the most favourite and subscribed channel in the Spanish language that earns him not less than $5.5million.
The 26-year-old comedian is the youngest YouTuber among this list who has built an absolutely huge fan base of 30 million fans subscribed to his channel, where he also posts videos of his band Ancud.
The Chilean native has also released a book – titled #Chupaelperro – and remains so popular a change in his hair color inspires countless articles.
9. Colleen Ballinger
Colleen Ballinger and her alter-ego, the hilariously incompetent Miranda Sings, have landed both a memoir, Self-Help, and Netflix series, to go along with a standup tour. This made her a cool $5million and won 7,359,094 subscribers to her channel.
The former actress released the bestseller book Self-Help is a pretty significant one.
10. Rhett and Link
Rhett and Link are known by the names of Rhett McLaughlin and Charles Lincoln Neal III. Better referred by their fans as the comedic duo Rhett and Link.
They are a little old for the YouTube demographic with their ages being 38 and 37. Still, they're doing remarkably well in the Youtube and quite popular on the platform. They have been making people laugh out loud since their schooldays. They are best known for making hilarious local-style ads for real companies
These engineers' tag-team comedians have annual earnings of $5 million and a total of 11,545,537 million subscribers.
The co-hosts a morning talk show called Good Mythical Morning that snags superstar guests.
They also do plenty of challenges, like eating a scorpion or the world's hottest pepper.
These full-time comedians run the production company Mythical Entertainment.
There's no doubt that these stars are the new celebrities among teens and tweens who had left a huge impression on the global stage with the help of YouTube. Now, won' t you agree to strike a silly pose with a friend or stand frozen with firearms in hand or make funny faces or create cranky videos on YouTube. It' s really a conducive business. It' s indeed an awesome job if you can get it, if only you can renounce your traditional job. You won' t regret for it's really paid off!