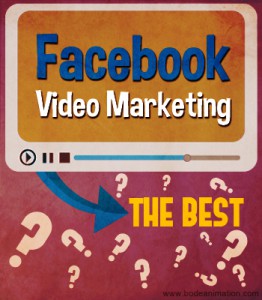 According to a recent report, Facebook pulled in revenue of $1.81 billion during the second quarter period of 2013. Facebook has been seeing successful growth in the revenue as well as in the number of users. It has witnessed 1.15 billion monthly active users as of June 30th, while its daily active users stood at 669 million. The other biggest progress is that its number of mobile users has increased by 50 percent compared to last quarter year.
Over these years a lot of users use Facebook to market their videos. They find it comfortable and interesting. Imagine if you have to follow the old-fashioned ways of marketing? Sending e-mails, creating banners, images, etc; the days of banner and image advertising are fading faster. Hence, experts have agreed to follow new marketing strategies for the attention of all audiences.
The first ever video uploaded on YouTube was by the co-founder Jawed Karim at San Diego Zoo. Ever since that, videos have become more popular. At present, YouTube ranks high on video distributing platform.
Companies like Coca-Cola, Redbull, and Converse have become well-known to the world of marketing industry for their out-pouring videos on Facebook. These companies, indeed, not only post videos, but also interact with the users by creating other notable forms of content. For instance, Coca-Cola supports and promotes campaigns. It reaches out to the wider audience, instead of confining to one category of viewers. Another example is iTunes-it highlights high quality video, music videos, interviews. Whether it is a musician or a filmmaker, iTunes lets shine the work of an artist through video.
People are obsessed
You can find a person without an Xbox, but not without a Facebook account. People are so much obsessed over Facebook. Sometimes they are emotionally connected too; while, it can also do miracles. It raises awareness about your marketing goals. It boosts your brand popularity through the power of video.
Business success on Facebook
Here are some simple steps to begin with marketing videos on Facebook.
Create a Facebook page
Choose a category and page name that represents your business. Add logos and upload display picture and cover photo that relates to your business. Write a short description on your page, so that users will get the right idea about your page. Always remember to make a simple web address, so that the users can remember it. Also, it can be used as a marketing material to promote your business.
Invite as many people from your friend as well as business zone. You can either invite them via e-mail or share your page.
Facebook Ads
Now that you have created your page, you need to find the right type of audience, using Facebook Ads. These ads will appear in the News Feed, on the right column. It also highlights if any of your friends have liked the page. In order to measure your progress through ads, monitor it in the Ads Manager. This will enable you to see if your audiences are engaging.
Page Insights
Check your insights almost each day. It will list out the information about which of your posts get more views and how many people have commented over it.
Facebook Videos
Facebook and Videos are two powerful sources, and when they reach out together, it creates a wonder. The first step is to upload a video. While you are uploading, make sure you give description and a proper title to the video. As your video gets shared, your page also gets promoted. Make the video available to all audiences, including users from other countries.
The best engaging and interactive method to be practiced is by asking your viewers or audience to review or give feedback to your product or brand through video. As a matter of fact, it will build more trusts between you and your customers.
Pin your video. You may want to upload more content on your page. So the video might get hidden or chances are that it will not get highlighted. By pinning your video, it ensures that this will be the first post your visitors will see.
Hashtags are not just popular on Twitter. They are being used on Facebook as well. Don't create lengthy Hashtags. If you are creating series of videos based on a subject, make sure to use same Hashtags.
For instance: Automaker Nissan uses Facebook video to drive sales and awareness of its 2014 Nissan Versa Note, announcing the launch of its Passion Genome initiative.
Based on the passion, what the users have shared on their profiles can be shared on Facebook using the Hashtag #MyPassionPortrait
Videos to use on Facebook
Vine
There is no way you might have not heard of it. Vine videos are going more viral than any other ones. Firstly, they allow only 60 seconds of a video. It is simple and creative. If you are not interested in producing a complex video, vine lets you create stop-motion animation. You can connect your Facebook account directly to your vine account and once you are done creating the video, you can share.
Some of the popular brands that use Vine are Xbox, HTC, Puma, Urban Outfitters and Walgreens.
Instagram
Instagram videos are similar to Vine videos. But it lets you create video for 15-seconds. Besides sharing on Facebook, it also allows to share your video on other social networking sites.
Some popular brands like Taco bell, Starbucks, Disney, Nissan USA, TopShop use Instagram.
Google+ Hangouts
If you are interested in introducing live videos into your social media strategy, then Google+Hangouts are the sporting chance. It enables in easy way of sharing your videos to social networking sites.
You can even conduct webinars or record while you are interviewing someone. This could be one of the best ways to conduct online business meetings. It allows 10 people including the host on webcam.
YouTube
The main advantage is that a lot of people use YouTube and has huge competition. Use keywords in your title as well as in your description. Make sure to give your Facebook address in the description. It is advisable to give your Facebook address at the beginning as well as at the end of the video. Also Tag other videos to your link, this will help you give traffic and SEO.
Just as the marketers are trying to approach various means to promote on Facebook, Facebook is also attempting to oblige these marketers. Facebook has introduced "Autoplay video", a product that will either take chances to work out or not. Facebook has been recently testing this product on Mobile. When you view your mobile news feed, the videos on your news feed will automatically play without a sound, whether you like the video or not.
The chances are that some users will find it annoying, but for marketers it could be the best bet.