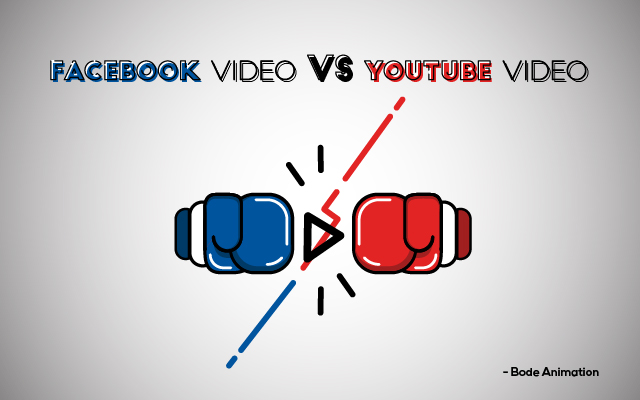 Before the advent of the internet, people used to socialize in the traditional sense i.e. meeting each other face to face to exchange ideas, share their love life issues, gossip about their neighbor's wife etc. but were only connected to each other locally. They had to write a letter if they wanted to communicate with a loved one living thousands of miles away. With the arrival of the internet, certain aspects of social interaction evolved and became more global, as people started communicating with their friends and loved ones overseas through email and chat applications. This gave rise to social media platforms such as Facebook and YouTube where people could share interests, ideas, exchange funny cat photos and videos, and communicate with each other. Nowadays social platforms are also used by companies and individuals to market and promote their products and brand.

Facebook Videos: Use Them Effectively to Show Off Your Latest Shenanigans
Facebook videos are real-time or live videos uploaded to a Facebook page or to a user's Facebook profile. It is a relatively new feature introduced by the social networking company and is known as 'Facebook Live'. It enables users to create and upload live streaming videos either on their profile to share their personal moments with friends and family,  or on a page to market their business. Although live video streams on the internet have been around for quite a while, they have never been implemented on a large social network such as Facebook. Since its inception, there are over 4 billion views taking place on Facebook every day. The best thing about uploading a video on Facebook is that videos start playing automatically on the news feed. Initially, they play silently (Thank God) but the curious ones can click on the video to play it with sound in full screen. Secondly, Facebook videos whether they are on a person's timeline or on a company's page will have view counts so that users can search and discover them easily. A user can produce engaging video content to promote their product
or service such as a homemade carrot cake and drive more sales. Here are a few tips to do just that:
Create a high quality video. Facebook videos play automatically and silently, so you should utilize eye-catching images and pictures to grab your audience's attention.

Click here 

to see an example.
Content should be unique. Make a video that offers your audience something special such as a promotion or a free sample of your product.
Provide a good reference. Use a key moment or a quote from your video as a context for your post. This will help establish your viewer's expectations.
Embed a call-to- action in your video to invite your audience to do something after watching it.For example, you can ask them to visit a website, purchase something or watch another video. This enables them to connect with your content on a deeper level. However refrain from threatening them. Typical call-to- actions are 'Learn More', 'Shop Now' and 'Watch More'.
If a person appears in your video, tag their page, even if it is your childhood rival. This helps to build a network.
Use the available video insights to determine what excites your audience and then optimize your strategy for the maximum impact.
YouTube: Utilize it in an Effective Manner to Display Your Singing Skills
Since its creation, YouTube has been at the forefront of video marketing. Many individuals, celebrities, and aspiring artists use the free service to market themselves, while companies use it to promote their brand. It is also utilized as a learning tool by students of various disciplines ranging from science and commerce to engineering and music; besides also being used to watch funny cat videos from time to time. It is the second largest search engine after Google and since video footage of more than 300 hours is uploaded to the site every minute, it is a great way to advertise yourself or your brand to the world.
The most effective ways to harness the power of Youtube are:
Build a YouTube channel that portrays your brand. Use the provided tools to upload your organization' s logo, create customized tags and assign a color scheme that represents your company.
Implement the correct keywords in your videos because YouTube makes use of Meta tags to search for videos in its database.
The Youtube channel you created is essentially your company's page, so be sure to include links to social networks like a Facebook page, a Twitter profile and an Instagram profile.
Make a short video to inform your audience of your company and give a sneak peek of your products. But don't make outrageous claims on your products such as 'Invest $10 and earn over$50,000 per month from home'.
Upload informative videos about your products and services. This drives traffic to your channel.
Use an interesting and a catchy picture as your video's thumbnail to put it under the spotlight and attract the maximum number of viewers.
Always post a few video testimonials about your product or service. This helps you build a strong reputation and addresses the concerns of potential customers.
The Clash of the Two Titans
YouTube is a household name when it comes to online videos. However the growth of Facebook videos over the past two years has been unprecedented and it might not be long before Facebook usurps YouTube as the number one tool for online videos. The facts speak for themselves:
Facebook users have posted 75 percent more videos since last year
More than 4 billion video views in a day
About 65 percent of videos are viewed on mobile devices
The average length of a Facebook video is 44 seconds
Facebook is more popular with the 18-29 age group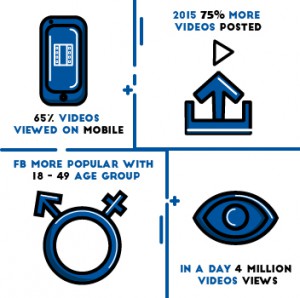 The main strength of Facebook is that it is the number one social network out there and everybody uses it, and it won't be long when everyone starts using Facebook video. Facebook keeps updating its algorithm according to changes in the user trends and this causes your video to become more discoverable, while on YouTube this may not always be the case. Plus Facebook gathers a lot of data on its users and this allows for targeted marketing through video advertisements.However, Facebook video is more of a passive experience because people aren't generally using Facebook to watch videos whereas people mostly use YouTube for viewing videos. There are certain regions where Facebook is not so common such as Russia and Japan; perhaps they are too busy drinking vodka and eating sushi respectively. As a result, it is used to target a specific group of followers, rather than a worldwide audience.
Whether you like it or not, YouTube is still the greatest platform for streaming videos online. Some facts:
1 billion users are active on YouTube
There was a 60 percent increase in the watch time since 2015
More than 50 percent views come from mobile
An average YouTube video is about 3 minutes in length
It attracts viewers belonging to the 18-49 age group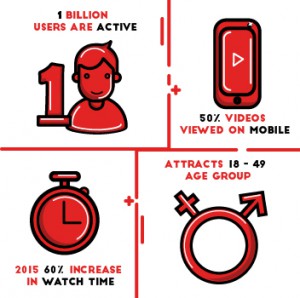 Needless to say, a user is more willing to watch longer videos on YouTube than on Facebook, because it has cemented itself as the leader in online videos in people's minds. Additionally, YouTube is a search engine itself and about 80 percent of the users come from outside the U.S. so it is the best tool to target a wider audience. As the pioneer of a video sharing platform, the efficacy of YouTube cannot be ignored.So who do you think wins this epic battle between the two titans? Share your opinion in the comments section below!