As a business owner, you would have invested tons of hard-earned money in marketing your online videos, but have you ever assessed its ROI performance? If not, then it is high time that you do with video analytics, and keep your business on track.
What is video analytics?
Video analytics is a technology that helps you to monitor your online video's performance with the latest metrics & reports. The information gathered through your video's statistical reports like views, traffic source, demographics, etc., helps to evaluate, tweak and enhance its ROI performance.
What you can achieve?
Helps to obtain real-time analytics.
Effectively optimize your content and capture leads.
Minimize your production cost,
Get an enhanced ROI for your online videos.
Manual approach
Views
Views help you to track down the number of visitors who watched your videos, and in addition, it provides details of total time watched, no: of views monetized, etc. You will also be able to find out the view source, as well as the number of daily visitors.
Likes & dislikes
The Likes & dislikes report permits you to evaluate your particular video metrics. Being knowledgeable about which segment of your video engages the viewers will help to identify the features involved in it. This facility helps you to implement these aspects in your future video marketing campaign and get more viewers and also retain the older ones.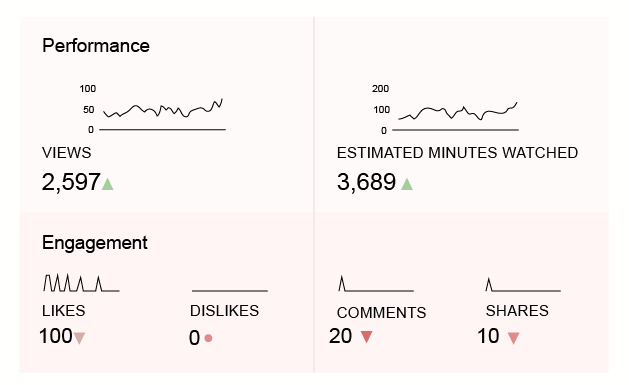 This feature motivates your audience to take part by requesting specific questions or asking for any topic which they wish to view, so that you can cover in your future videos.
Share
This attribute helps to identify how many visitors have shared your videos links to other sites and social networking platforms like Facebook, Google+, Quora, Twitter, tumblr, MySpace, etc.
Advanced analytics
Traffic source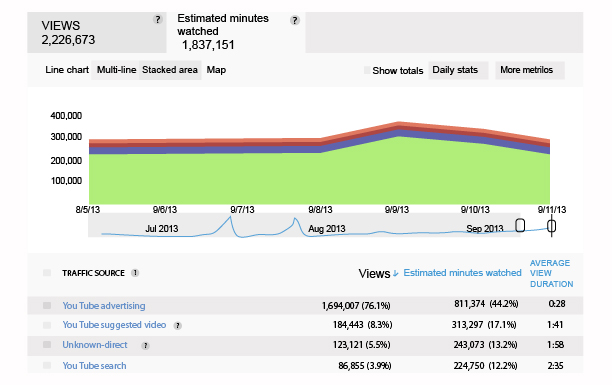 The traffic source report briefs about the visitors from other websites and other online sources, who have viewed your video content. The viewers have some options to locate your content like finding it on YouTube, following the social networking platforms' links, clicking on recommended video thumbnails, etc. You can also find out which search terms the viewers are utilizing to locate your videos.
Demography
The demographic report helps to know particulars like gender, age, etc. By regulating the geographical areas and date range, you will be able to understand how your audience segments differ. By this procedure you can match your videos to the various kinds of audience and will able to decide which section provides more support for your videos and cater their needs accordingly.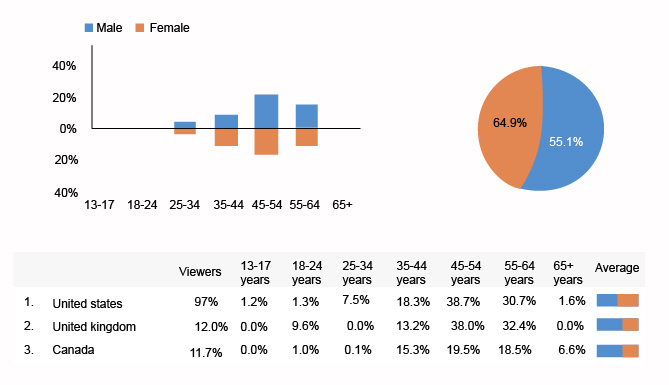 Heat maps
Heat maps are other significant features that help you to keep track on your visitors. These graphical representations are produced when a viewer watches your video. Heatmaps exhibits which portion of your video, a visitor has viewed, skipped or re-watched. This feature also assists you to know which videos has been previously watched by your visitors and thereby become aware of the video type your customers prefer to view, before purchase.

Wistia, Vidtyard, YouTube – a comparison
The normal Video Search Engine optimization workflow is a tedious procedure. You have to create the sitemap and add root folders for your websites. You need to periodically verify your video performance using webmaster tools. But these burdens can be minimized with the use of video analytic tools like YouTube, Wistia, and Vidyard.
Video SEO
Both Vidyard & Wistia assists in creating, hosting and submitting your video sitemap. This denotes your video will get high rankings in the search engine results. In addition the links bring more traffic to your website and to your contents. Moreover your content's thumbnails can easily be shared with your developers for swift execution. YouTube analytics, on the other hand is a user friendly and absolutely free videos sharing site, where you can share any number of your favourite videos without any restrictions.
Video hosting
YouTube is a free video sharing site that is used by numerous users. One can easily upload and share his videos in a jiffy. However features like hosting, white labelling and player control customization are not available. This is not the case with Wistia and Vidyard. They provide hosting & white labelling options. You can put your product or business name as per your convenience on these video hosting services. Both Wistia and Vidyard do not take credit from your viewership. However you cannot expect the same from YouTube. When a viewer watches your video on YouTube, the viewers are also exposed to other related videos, which may not be yours. Hence probabilities are more for your visitors to get diverted to YouTube or to your competitors' website. Sometimes YouTube sucks up your traffic & recognition. It decreases your viewership retention, which gets reflected on your video's ROI performance. All these problems can be averted when you host your video on paid services like Wistia or Vidyard.
Social media
YouTube, Wistia, and Vidyard, seamlessly assimilate with all the leading networking platforms. Wistia flawlessly integrate with Twitter and in a tweet, you visitors are watched by innumerable viewers. Wisita embeds well with Facebook and WordPress and helps to push your video to a broader audience. With its social sharing buttons, the viewers can share your video and also permit other to embed your videos. Similarly Vidyard is capable of roping in your YouTube videos and vice versa. Your Vidayard content videos, can also be pushed to, Twitter and Facebook. YouTube also seamlessly connects with Google plus, Facebook, Quora, Twitter and other social networking platforms.
Call to action
Wistia provides a call to action (CTA) feature at the conclusion of a video. When a visitor completely watch your video to its end, the post-roll CTA feature provide the visitor, a clickable link which leads to your product page, to your other videos. Conversely, Vidyard offers CTA even in the middle of the video. If any, enthusiastic visitor wishes to have more information about your product or services, you can fulfil his requirement by setting pop-ups displaying, the relevant information. In YouTube, CTA are included by annotations & end cards. Based on your message, CTA can be placed on at the commencement, middle or at the conclusion of your videos.
Ads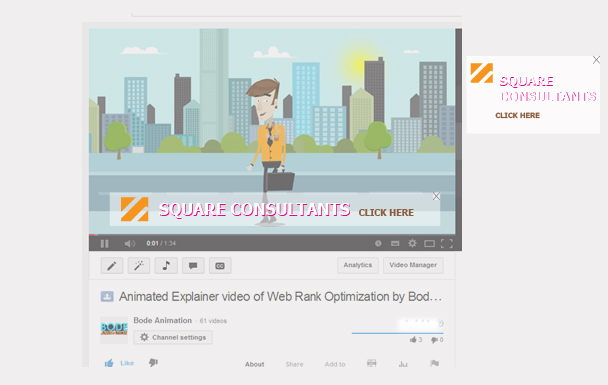 Both Wistia & Vidyard ensures that the video content belongs to you, not to them. Hence no ads, no pop-ups or links of other people videos. The viewers watch your video without any distraction. This augments the conversion rate as well a surge in the ROI performance of your videos. In YouTube, ads are displayed to viewers, who wish to have it. Hence this feature may sometime work against you, the viewers can get attracted by the ads, and go to a particular site. You require a significant audience prior to witnessing any considerable returns.
Pricing
Wistia with its unique features like turnstile email collector, low stage of buffering provides monthly & annual hosting services in different packages. Its monthly pricing starts from a minimum of $25 to a $300 per month. You will be able host a minimum of 3 videos of 5GB bandwidth to unlimited hosting of videos of up to 1 TB. Vidyard is somewhat priced on higher side. Its new app for hoot suite helps to easily manage your video content across all social channels. Vidayard starts with a minimum subscription of $79 per month. Youtube analytics is absolutely free.
Recap
Video analytics help to obtain real-time analytics.
Cut down  production cost and improve the performance of your online videos through viewership, demographic reports
Heat maps help to keep track on your viewers and know which portion of your video has been watched, skipped or re-watched.
Overall, Video analytics help you to monitor your online videos, its ROI and thereby expand your business.