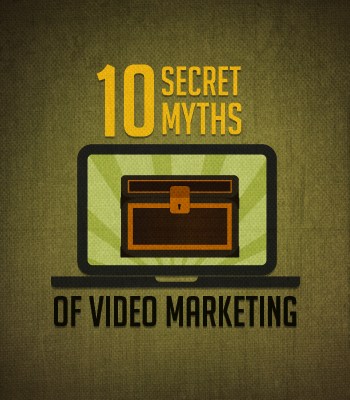 Online video marketing has become a great platform for businesses to promote their products and services. However, entrepreneurs and managers are often misled by some secret myths about video marketing which most people don't know about. As a result, they forgo the use of this effective medium for reaching their target audience. Hence, it is important to dispel the secret myths. Here are 10 of them.
1.

Short Videos Attract Viewers

Among the commonly cited video marketing tips is that the length of explainer videos should be shorter than three minutes. While it is true that capturing the viewers' attention is easier with a short video, you cannot compromise on the quality of the content. Unless the content is engaging, people won't even watch it for 30 seconds, let alone three minutes.
2.

Making Explainer Videos Is Expensive

Businesses are concerned about the cost of making explainer videos, particularly when hiring professionals. However, you don't need to spend hundreds of dollars on making your video. As long as you are conveying your message effectively, production value can take a backseat.
3.

There Is Nothing You Have Worth Saying

The fact that you are running a business means that you have something to communicate to the people. Just tell the viewers what sets you apart from the rest and the solutions you provide through explainer videos.
4.

The Sole Purpose of Videos is Lead Generation

Online videos can be used for various other purposes than simply generating leads. In fact, you can build brand credibility through online videos. Post insightful videos that answer questions people have about your business or offer other valuable information.
5.

Online Videos Boost SEO

Online video marketing can boost your website's SEO but only if you post them regularly. Posting a video once in a blue moon will not help you with SEO.
6.

Only Viral Videos Deliver Results

If you cater to a specific niche of the market, your goal should be to get them to view your videos. Generally, a video goes viral only if it has a global audience. So, you don't need to worry about going viral. As long as you are appealing to your target audience, your videos are effective.
7.

It's Time-Consuming

Creating videos takes more time than any other form of online marketing. However, you can hire a professional to do the job for you. On the other hand, even if you spend 20 hours making a video, the resulting increase in sales would make it worth your while.
8.

Stealing Tags is Allowed

It was common practice to steal tags from other videos and post them on yours but YouTube has become savvy over the years. If you rip tags off other videos, you will get caught and your video marketing efforts would suffer. Instead, you should try and add relevant keywords to the tags.
9.

You Can Post the Same Video on Multiple Sites

This does not work at all. Google and even YouTube have taken a hard line against duplicate content so if you plan to make a video and post it on multiple sites, think again.
10.

Online Video Marketing is the Way of the Future

Online video marketing is the most effective mode of internet marketing at present. Over 80% of marketers are using this medium to promote businesses. So, if you are putting off video marketing believing it to be the way of the future, you might miss the bus today!