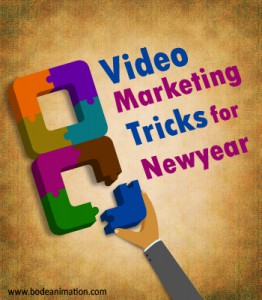 With New Year coming right around the corner, it's time finding the best way to send a fun-filled greeting for your clients. But, it becomes a greater challenge since holiday seasons turn out to be a competitive period for all business enterprises.
Although there may be various medium, video grows out to be an easier option for startups as well as for developed organization. The reason is videos are more engaging and entertaining than a mere greeting card or typing a bunch of words through e-mail. Your clients may either take a look at it or consider it as a spam; it will not create any impact for your brand.
Special greeting videos mean a lot to the clients, it is like showing gratitude to them. So, don't miss the chance of re-connecting with them.
This will not only create a long-lasting relationship with clients, but also will enhance your business branding. It's not new, the custom of sending greetings days back to the ancient Chinese. This time of the year becomes important for all marketers to prepare their marketing campaigns for holidays.
Either it is B-to-C or B-to-B; companies have numerous reasons to send a greeting message to customers or business partners. A simple, yet, engaging message will stand out among all business videos.
Here are some of the marketing tricks to bear in mind before producing a greeting video:
Holiday Jingle
If you think you could add something creative to your video, then, add a background music that is either peppy or appealing to ears. But make sure not to violate any copyright laws.
Also a brief video of your team wishing in unison will do an easy presentation without wasting much energy and time. If you are conducting any event at your workspace during holidays, then using any video camera you could capture video of the event and share it with your customers and business partners.
Offers
Don't think, just do it! Offering discounts or coupons during holiday season is always a great idea. Your customers will appreciate such offers and it will also bring you more customers. Who wouldn't want to say "yes" to offers?
In addition to your greeting messages, send out an encouraging strategic message on discounts and coupons. Have a separate video for "Holiday campaign" and under this category you could add as many video messages so that they are all viewable.
"Thank you" message
It's really hard to get loyal customers and even more difficult to find new customers. A simple "Thank you" message will show how much you value them and their feedbacks. Even your business partners will consider it to be a notable message that you are grateful to have them as business partners.
Charitable
Most people like supporting businesses that involve in donating to any NGOs or NPOs. Invite your business partners for such charitable events where they get a chance to rely on your efforts. Make a video on how you support these organizations and invite people to be a part of it.
Landing Pages
Your landing pages are one of those apt tricks you could follow to brand your company or product. For example, during holiday seasons, you may have a separate special message that you would like to convey. Or you may also offer discounts or coupons, such information are much needed to them during the festival seasons. Customize these pages to a particular category and have them on your landing page.
E-mail
Marketing through e-mail may be an old form of promoting, but it is never dead. Most of the developed companies still use e-mail as a tool to campaign and promote. Along with the video link, you could share your company's achievements and what are the other services you want to promise for the next year.
Call to action
At the end of your video, make sure to add call to action. A call to action can be at the beginning or as well at the end of the video. By doing so, your customers will get to contact you with your website link or through contact details provided. If your video is typically sales based, then state a link to share or re-tweet or comment.
Share it to the world
It's time to spread your joy to the world. Share it on as many social networking sites, promote and re-tweet them. You could add engaging pictures of your team in the video or some funny event during the holiday season. What's the point when you don't get to share your happiness to the world? For instance: If your video sends out a message on gifts, holidays, then it is worth sharing it to people.
Your marketing doesn't end with just a celebration, your plans and services for next year have to be conveyed to people. Share some useful insight on your product and what are the changes you are planning to make in the upcoming year.